Derf2440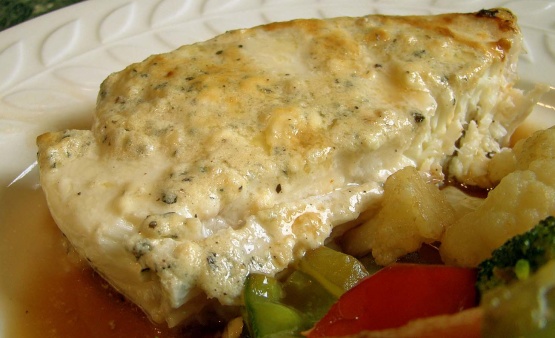 This is one of our regular dish at home. It's very easy to make and taste absolutely amazing! You can also make it with sea bass. You would definitely think this comes out from a chef's oven.

Delicious topping for halibut. We really enjoyed this. I had a huge filet and still didn't need all the topping so I used it the next night on steak - fantastic. I can see this melted on french bread, too or tossed with vegetables. A wonderfully flavorful and versatile recipe - thanks!
Set oven to 450.
Line the foil on over pan and grease the foil slightly with olive oil.
In a small bowl mix together cheese, butter, mayo, lemon juice and garlic.
Add in all the remaining seasonings; mix well and set aside.
Arrange the fillets in a single layer on the prepared pan, sprinkle with salt.
Bake a few inches from the heat for about 2 minutes.
Turn the fish over and bake until 70% cooked.
Remove from oven and cover them with the cheese mixture on the top side only.
Return to oven and and bake for about 2 minutes until the topping is browned.
DO NOT OVERBAKE!