mopow6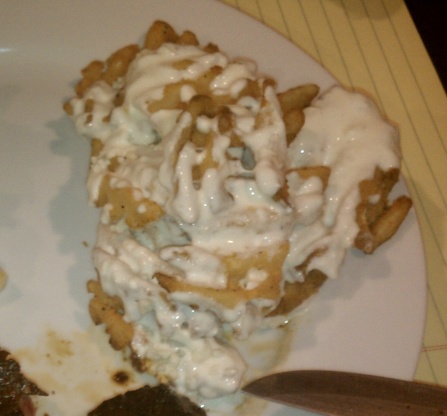 From the Downriver Grill in Spokane WA. They use a waffle cut potato that catches the sauce -Divine! I have not made this recipe yet, but I've had my fair share at the Downriver!
We tried this to recreate what we had at a restaurant. I added a bit more cheese, and I skipped the nutmeg, salt and pepper, and we loved it. My husband, daughter and I loved it! We have had it a couple times. So good, and easy to adjust the recipe to make it thinner/thicker/more flavorful.
Bake french fries according to package directions.
While fries are in the oven, combine cream, romano and parmesan cheeses, salt, pepper and nutmeg in a sauce pan.
Heat the sauce on medium then add gorgonzola cheese and parsley.
Heat to a bubble (do not boil).
Remove from heat and stir in mozzarella cheese to give sauce a gooey texture.
Drizzle the sauce over a large bowl of fries.
Garnish with crumbled gorgonzola, cracked pepper and parsley.