ChefLee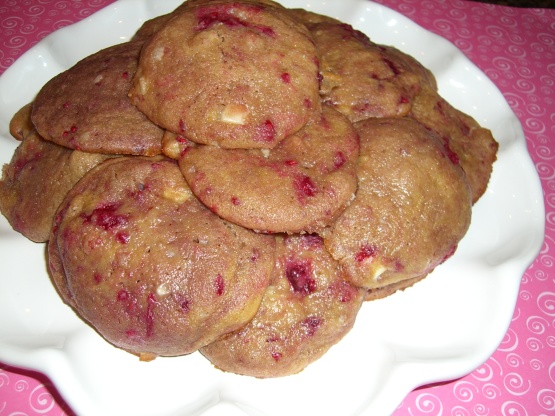 White chocolate, macademia nut and fresh raspberries captured in a perfectly sinless lowfat yoghurt cookie (well kind of)

I was having one of those days and I had doubled this recipe cuz 30 just wouldn't be enough if they were as good as they said they were. I had just about given up on this messy dough ( I had chilled it for over an hour ) but it just melted into nothing on the cookie sheets. So, instead of dealing with cookies anymore, I decided to just through the rest of what I had into a greased baking dish, leveled it and top it with oatmeal. I'm guessing it baked at 350` for about 40 minutes and it turned out fabulous!! So yummy as a cake. So moist and delicious. It was a big hit!! Will be making this again and again as a cake and am going to try it with black berries next time!!
Heat Oven to 375.
Butter cookie sheet.
In mixer beat sufgar and butter until fluffy.
Add yogurt, egg white and vanilla.
Mix until well blended.
Transfer dough into a metal bowl and gently fold in the white chocolate, macademia nuts and fresh raspberries.
Cover and refrierate for at lkeast an hour (no more than 3).
Flour hands and shape into balls - squash with palm of hand to make a 1 inch thick cookie.
Space well apart on cookie sheet and bake on top shelf for 10 - 12 minutes.