Gordon Ramsay's Shepherd's Pie
chefRD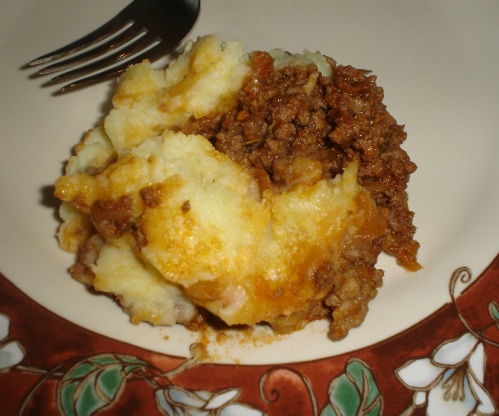 I found this on a blog on the internet site I can do that. This is a recipe that author "Oggi" adapted from Gordon Ramsay's show "Kitchen Nightmares" where he tried to save the restaurant. This recipe ended up being the signature dish of the restaurant.

Well, I HAD to try this. I love Gordon Ramsay, and my DH loves Shepherds Pie. He saw this episode also, and really wanted me to give it a go. So I used ground beef, don't think I could get lamb into my teenagers with a shoe horn! I did end up making quite a few adjustments to the seasoning/sauce in the filling, it was just kind of bland when made as directed. I think I ended up nearly doubling the tomato paste, worcestershire, wine, and broth, as well as the herbs. I also added more carrot, and onion than called for. It turned out very well, and the only thing I think I did a bit too much of was the herbs, I think I'll cut that back a bit next time. I ended up cooking the filling longer than stated ( I also found, and watched the video of him making it, and the cook time was much shorter, but he made a much smaller amount) The recipe, as posted seems to be very much like what he used in the video, with regard to the amounts, with the exception of the meat, It looked to me in the video much more like one pound than two. The only other difference is that he used 2 egg yolks in the potatoes, which I also added. It was very good, and I will make it this was again! Thanks for posting this recipe!
Prepare the mashed potatoes:.
Place potatoes in a pot, add enough water to cover, add salt, cook for 15 minutes or until tender when pierced with a fork. Drain potatoes and mash (I prefer using a ricer). Warm the cream and butter then add to the mashed potatoes. Season with salt, then beat with a wooden spoon or hand beater for 1 minute until fluffy. Do not overbeat or it might turn gummy.
Prepare the filling:.
Add 2 T grated Parmesan cheese. Cover, set aside, keep warm while preparing beef.
In a large skillet, heat olive oil, stir fry beef until no longer pink. Drain off excess grease. Add onion, garlic, and carrot and stir fry for 3 minutes.
Add worcestershire sauce, tomato paste, thyme and rosemary, cook for 1 minute. Add wine and simmer until wine has almost evaporated. Add the broth and simmer for 5 minutes or until sauce has thickened. Taste and adjust seasoning.
Transfer beef to a deep dish.
Spoon mashed potato on top of beef. Sprinkle with 1 T grated Parmesan cheese. Fluff with a fork to create peaks.
Bake in a 400° F oven for 20 minutes or broil until top is brown.