Gordon Ramsay's Baked New York Cheesecake
Dina_77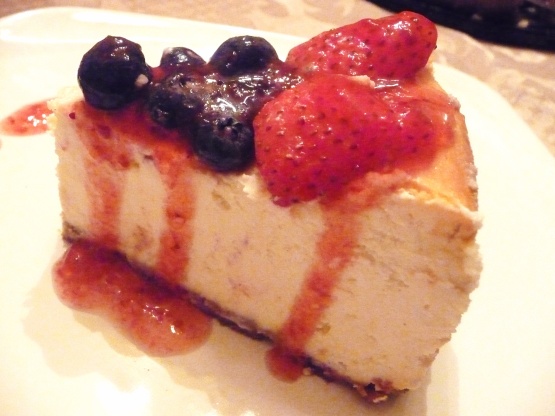 This recipe came from the Hell's Kitchen game.

I love this recipe. It always turns out perfect, and I alwayshave friends and family request me to make it for special occasions. Bake times are right on. Remember to leave it in the oven for an hour after you turn your oven off. It finishes the cake. Highly recommended.
In a mixing bowl, combine the butter and graham crackers until stiff but pliable.
Line the bottom of the cake tin with graham cracker crust mix. Mix all of the ingredients except the sultanas in a food processor until smooth, and then fold in the sultanas. Pour the mix into a spring-form pan and bake for 40 minutes at 325ºF-350ºF. Turn off the oven and leave the cake to cool down in the oven for about one hour to prevent the top from cracking. Chill the cake in the fridge overnight and dust the top with powdered sugar.