GOOSE - ROAST PORT GLAZED GOOSE with TAWNY PORT GRAVY
twissis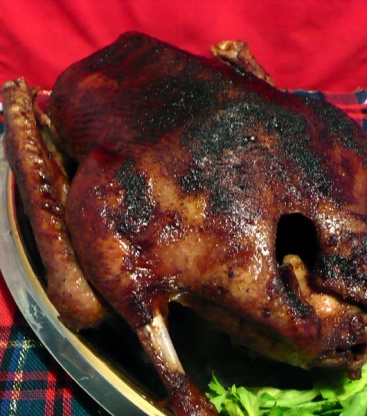 This makes a delicious goose!!! It was originally a recipe from Emeril Lagasse, in which I added the tarragon.

We made this for Thanksgiving and it was absolutely terrific. The goose was so tender and juicy. I followed the directions exactly. We'll be making it for Christmas this year! Make sure you get the right wine. It's important you get the tawny port as it's very syrupy sweet and not like a regular wine.
Preheat oven to 400 degrees.
Combine 1/2 cup of the onions, celery, bell pepper, 1 teaspoon of the salt& 1/4 teaspoon of the cayenne in a mixing bowl.
Remove the neck& giblets& set aside.
Remove any excess fat around the opening of the cavity of the goose.
Prick other fatty areas with a fork at intervals.
Do not prick the breast.
Stuff the cavity of the goose with vegetable mixture.
Season the outside of the goose with the remaining teaspoon of salt, black pepper, garlic powder& tarragon.
Place the goose in a large roasting pan& roast in oven, uncovered, for 1 hour& 45 minutes, or until drumsticks& thighs are easy to remove.
Combine the remaining 1/2 cup of onion, carrots, bay leaves& port wine in a medium size sauce pan over medium heat& bring to a boil.
Continue cooking over medium heat until the mixture thickens& reduces to about 1/2 cup, about 30 minutes.
Strain through a fine mesh strainer& allow to cool.
Using a pastry brush, glaze the goose with the port wine reduction,& return to the oven for 5 minutes to allow the glaze to caramelize& set.
Remove from the oven& allow to rest for 20 minutes before carving.
Serve with the Port Gravy.
FOR THE TAWNY PORT GRAVY: In a large sauce pan, heat oil over medium-high heat.
Add the giblets& neck,& brown, stirring, 3 to 4 minutes.
Add the onions, celery, carrots, salt, pepper, bay leaves& thyme& cook, stirring often, for 3 to 4 minutes.
Add the flour& stir to combine.
Cook, stirring, for 5 minutes.
Add the wine, bring to a boil,& cook, stirring occasionally, for about 5 minutes.
Add the water& bring to a boil.
Reduce heat to medium& simmer for about 1 hour.
Remove from the heat& strain into a clean container& keep warm until ready to serve.
This yields about 2 cups of gravy.