Nif_H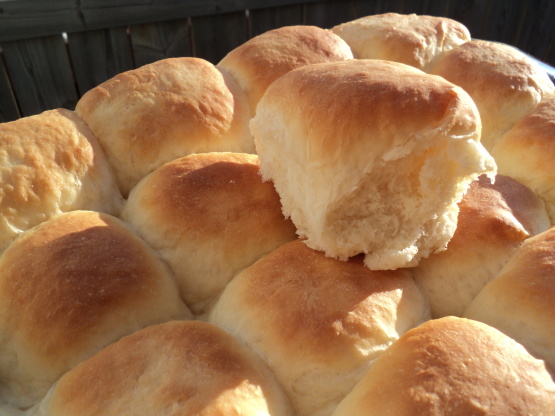 This wonderful Bread Roll recipe is a true no fail. It was given to me by Auntie Pearl back in the 80's. These are the number one request at any family gathering.

These have been my go-to dinner rolls for about a year now, since I found this recipe on Food.com. The only thing I changed is I add salt since I felt they were a little bland the first time I made them. I never buy Rhodes rolls any more and my family loves it.
Dissolve yeast in 1/2 warm water with one tsp of the sugar and let proof.
Warm the milk and place into mixer bowl. Melt Butter in microwave. Add butter, baking powder, eggs, remaining sugar, and butter to mixing bowl.
Start mixer and gradually add flour. When the dough is still creamy add the yeast mixture. Continue mixing and adding flour until a nice sticky dough is achieved.
Knead on a floured board about 15 times. Place dough in a oiled bowl turning once to coat. Let rise until double. (About 1 hour).
Form rolls and place in a large rectangular pan. 15"x11"x2". Let rise again until almost double.
Bake at 375 for 15 minutes or until nicely browned.