Karabea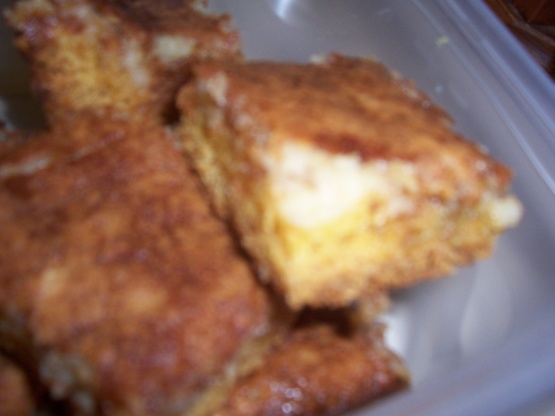 This wonderful cake is very, very rich and a little goes a long way. This yummy cake recipe is courtesy Paula Deen.
Love this recipe. I make mine with a full bag of chocolate toffee pieces, putting 1/2 the bag in the filling & topping it with the other half.
Preheat the oven to 350°F; lightly grease a 13 by 9 by-2-inch baking pan.
For the cake: In the bowl of an electric mixer, combine the cake mix, egg, and butter and mix well; pat into the bottom of prepared pan and set aside.
For the filling: Still using an electric mixer, beat the cream cheese until smooth; beat in the eggs and vanilla; dump in confectioners' sugar and beat well.
Reduce the speed and slowly pour in butter, mix well; Fold in toffee bits.
Pour filling onto cake mixture and spread evenly; bake for 40 to 50 minutes; Don't be afraid to make a judgment call on the cooking time, because oven temperatures can vary; you want the center to be a little GOOEY, so don't bake it past that point!
Remove from oven and allow to cool completely, cut into squares--Enjoy.