lazyme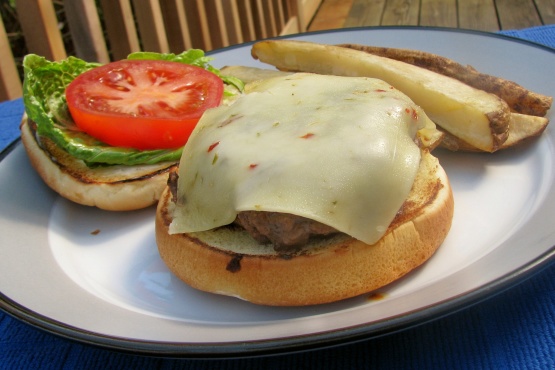 Looking for an out of this world burger? Maybe something different than the usual burger? Try this.........Cook time - would be to your desired taste and however you like your burger!
Cut cheese into 16- 18 thin slices.
In a bowl, combine ground beef and 1/4 C of the barbecue sauce.
Mix until well combined.
Divide the mixture into 8 or 10 equal amounts.
Shape into patties.
Place slices of cheese on the patties then place patties together so the cheese is in the center and pinch the edges shut. You should have 4 – 5 patties.
These burgers can be cooked on the grill, under the broiler, baked or pan-fried.
Once your burgers are done top with cheese.
Serve on toasted hamburger buns with your choice of condiments and the remaining barbecue sauce.