Catnip46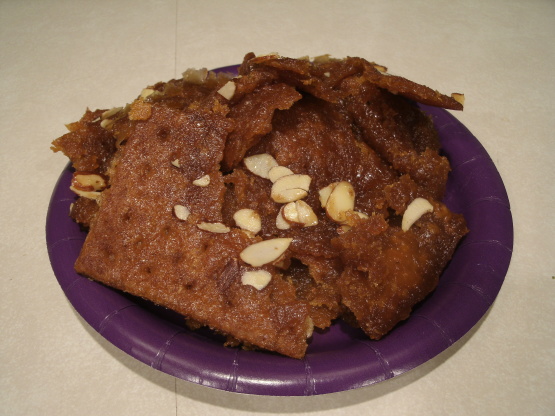 My cousin Marleen makes these wonderfully, simple cookies! Beware...they are addicting! "Bet you can't eat just one"!

OMG good I could of ate the whole pan of them. They are Goody !! Thanks for posting !
Line a jelly roll pan (10x15-inch) with foil;
Arrange graham crackers in the pan in a single layer to cover pan.
Combine butter and sugar in a heavy medium saucepan; bring to a boil over medium heat, stirring occasionally.
Boil for 2 minutes until the consistency of carmel; stir in vanilla and chopped nuts.
Drizzle the hot mixture over crackers and spread evenly.
Bake 10 minutes at 300°.
Remove at once from pan to flat surface to cool.
When cool, break into smaller pieces.