Debbwl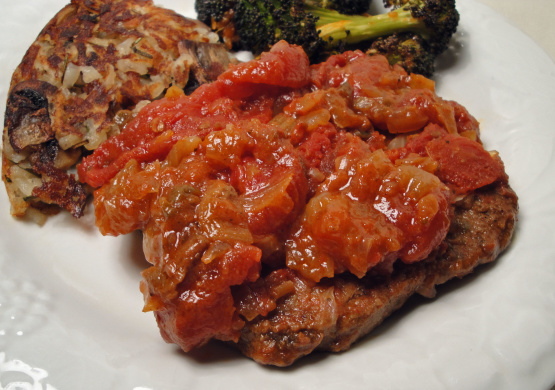 Easy to make tasty dinner. I cut the steak into serving size pieces; placed the flour mixture in a plastic bag; shook the steak pieces in the mixture then pounded the flour mixture into the pieces. I preheated the cast iron skillet before adding the oil to cook the steak, and placed the browned steak in a roasting pan. In the same skillet, I added the tomatoes, onion, celery and added 1 teaspoon sugar, scraped up the browned bits and added the mixture to the roasting pan on top of the steak. I gently stirred the steak a couple of times during baking. Served with recipe #148484 and peas and carrots. Made for Please Review my Recipe.
Mix together chili powder, flour, salt, pepper, garlic powder, and celery salt.
Pound this mixture into steak that is 1-1/2 inch thick.
Cook in a cast iron skillet with lid off, on top of stove, until brown.
Put the canned tomatoes, sliced onion, and diced celery over the steak.
Bake covered in a 300 degree Fahrenheit oven for 2-1/2 hours
For the last 1/2 hour leave lid off.