Good Old-Fashioned Mashed Potato
Peter J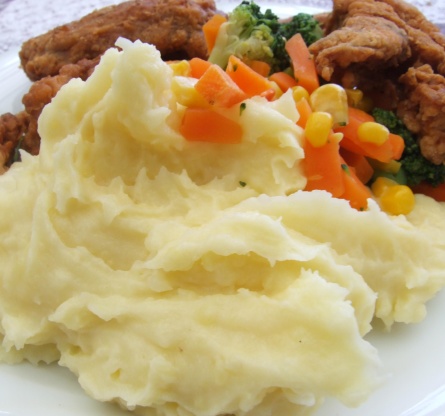 I was looking for a mashed potato recipe on Zaar and couldn't find one. So here it is. We have mashed potatoes with casserole, stew or just as a side. Also being gluten-free I often use a gluten free pastry for the base of a pie and just top it with mash. You can use any quantity of potatoes, butter and milk/cream to your preferences.

Top Review by vals99
Great recipe, only thing I would add is that rather than add the potato to boiling water, I was always taught to put the potatoes in cold water and bring to the boil. This way the centre of the potato pieces heat up at the same time as the outside and you don't get lumps in your mash.
Peel and cut potatoes into approx equal size pieces.
Add potatoes to a saucepan of boiling water and boil until tender.
Drain the potatoes and return them to the saucepan.
Use a masher or ricer to mash the potatoes with. The longer you mash the smoother it will be (I just hate it when my mash has lumps!).
Add the butter and mash it into the potatoes until melted. Add the milk/cream and mash until a smooth consistency is achieved. Add more milk/cream if you would like a softer or sloppier mash.
Add salt and pepper to taste.
You can also mash in some softened onions, garlic or spring onions.
You can also use sweet potato (kumara) or any variety of potato to make mash with.