Yia Yia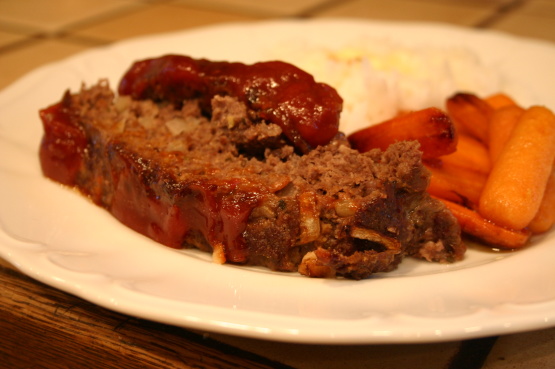 Delicious comfort food, a taste from my childhood. I've used this recipe for years and my family loves it as much as I do. It's good enough for guests, too!

This was delicious. My whole family gobbled it up! I am a picky meatloaf eater, but the sausage was a real hit with me. I think maybe too much ketchup for my taste, but other than that...just awesome.
Preheat oven to 375 degrees.
In a large bowl, combine beef, pork, beef broth, onion, 1-2 tablespoons Worcestershire sauce, bread crumbs, egg, garlic, olive oil, salt, pepper and oregano.
Don't overmix, but combine it well (hands work the best).
Transfer meat to a shallow baking pan and shape into a loaf about 5 inches wide.
Bake for about 1 hour and 15 minutes.
While meatloaf is baking, combine ketchup, brown sugar and 1 tablespoon Worcestershire sauce in a small saucepan.
Bring to a boil, stirring occasionally. Pour or spoon over the meatloaf (after the 1 hour, 15 minute baking time). Bake for about 15 more minutes, until temperature reaches 160 degrees in the center of the meatloaf.
Let meatloaf rest 5-10 minutes in baking pan, then remove to a serving platter.
The drippings from the pan are obscene over mashed potatoes.
I've made this with all the beef/pork combo, all beef and even buffalo and beef combined. It's always outrageous (we think). Also,it is better with the beef broth, rather than the milk.