Good News–bad News Tuna Salad "salad" Sandwich
French Tart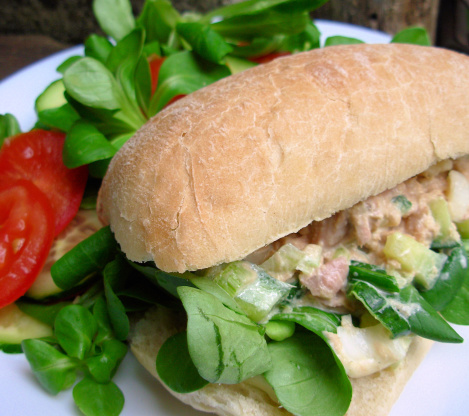 I know it's a long name, but it's descriptive. The Good News - my DH loves tuna salad. The Bad News - he devours it faster than I can make a batch of std tuna salad. So I found this way to extend the "refrigerator life" of our tuna salad & he likes it better! Despite the expanded bulk, you don't lose the tuna flavor. This makes a good tuna melt too, but he's always impatient & slathers it on wheat bread. *Enjoy* ! *Edited to Add* DH prefers fresh tomato to sun-dried, but I esp like Redsie's sub of sun-dried tomato -- so consider it an opt chg you can make w/my blessing. :-)

I let Dh pick my tag for your Football Pool win & this is the one he chose. So happy he did! It was just a wonderful tuna salad. Had with a nice cup of soup. Delightful!
Combine the 1st 8 ingredients, mix well & chill in refrigerator.
NOTE: When ready to serve -- If you expect to use the entire mixture, add the full amt of lettuce & serve. However, if you expect to have leftovers, add half the lettuce & then add the rest of the lettuce when you serve any leftovers.