Good-'n'-Gooey Fresh Peach Cobbler
PM241076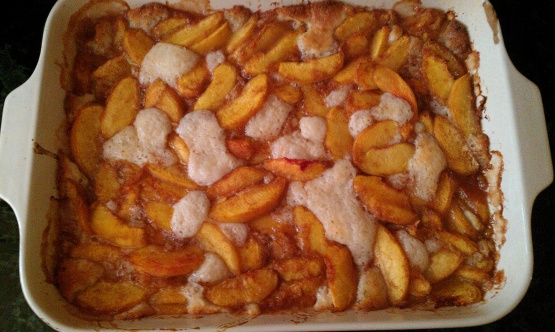 This is a real Texas peach cobbler with an abundance of juicy fruit and a sweet, biscuit-like batter topping that is crunchy on the surface and doughy inside. This recipe comes from Cheryl and Bill Jamison.

This was really easy to make. Only problem was I had to buy frozen peaches because pipe peaches were not available, so I had to guess at the amount of peaches. I used 3 one pound bags and that my be too many peaches. Another thing I did was squeeze a fresh lemon for the lemon juice and ended up with more than 1 teaspoon of juice. So I decided to throw it all in. When I tasted the result of my work, I would have to warn you to watch out. Only eat this in a setting down position. It tasted so good that it made me weak in the knees, and the fall from a standing position could injure you. Enjoy everyone!!
Preheat oven to 350 degrees F.
In a bowl, mix together all the filling ingredients.
Set aside.
The filling will be a bit juicier than most pies.
Melt butter in a 9x13 baking dish in the oven.
In another bowl, stir together flour, sugar, and baking powder, and then add the milk.
Mix until lightly blended.
Spoon the mixture evenly over the melted butter.
DO NOT STIR.
Pour the peach filling evenly over batter.
Bake 45 minutes.
Serve warm, with vanilla ice cream or whipped cream if desired.