Good Morning Florentine Ham and Eggs Casserole
2Bleu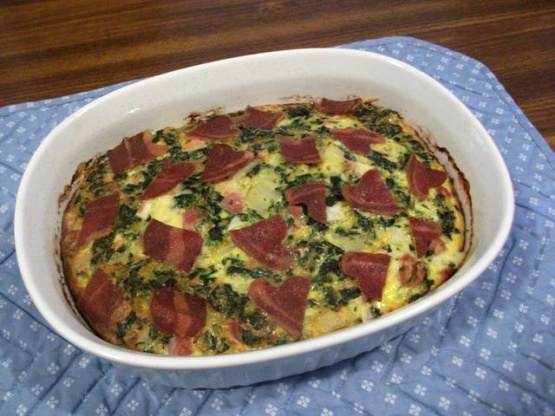 This is a great recipe that is simple and inexpensive to whip up for a large crowd for breakfast. Serve with coffee, toast, maybe some fresh cantelope and your done! Recipe is easily reduced for a smaller crowd or for a romantic breakfast for two. :)
Preheat oven to 375°F Coat a 9x13 pan with nonstick cooking spray.
In a large bowl, whisk together eggs, spinach, onion, ham, salt, and black pepper. Gently fold in the tater tots (so as not to break them up too much).
Pour half the egg mixture into prepared baking dish. Place half the american cheese on top. Pour remaining egg mixture over that. Sprinkle the bacon over the top. Bake for 30 minutes.
Place remaining half of cheese slices on top and bake for 5 minutes more.