Good for Your Gut Guacamole
Syrinx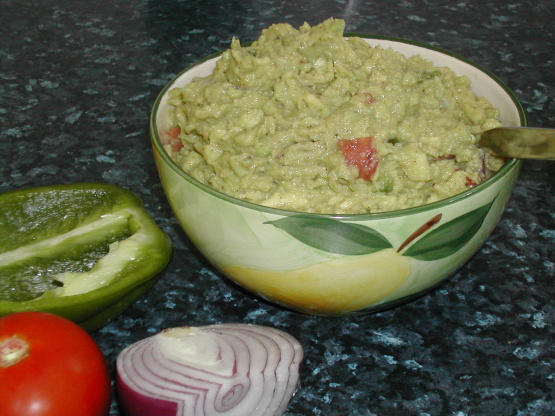 I fiddled with a regular guacamole recipe until I found the one that I absolutely loved. My two and a half year old son always asks for more "wamowee"! I like my guacamole on the salty side so adjust the salt to your liking.

Top Review by Syrinx
Delicious! I made a half-quantity of this guacamole, using half the recommended amount of salt, but otherwise followed the instructions exactly. I actually made it for the children, who are due home from school any minute now, but I keep finding myself in the kitchen stealing spoonfuls from the bowl! Very, very tasty, with just the right amount of crunch to contrast with the unctuous avocado. Next time, I will use fresh garlic instead of garlic powder, which I don't normally buy. A very good recipe. But how do I stop myself from finishing it all before the children get home??? :-)
Mash avocado in a mixing bowl.
Add diced tomato, onion and green pepper.
Mix in garlic powder, salt and chili powder.
Dip fresh vegetables or tortilla chips.
ENJOY!