Good for You Strawberry Waffles
DuChick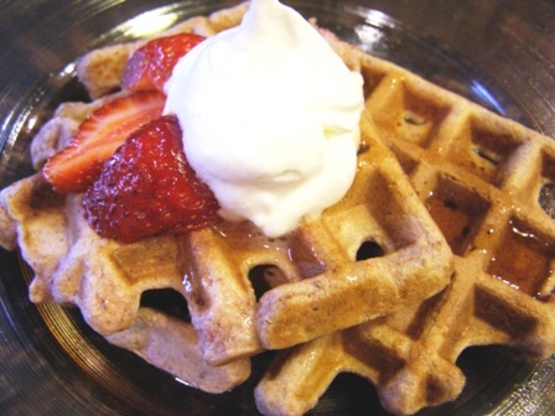 These are so good, no one will ever know how healthy they are. I don't tell anyone! I had extra strawberries and wanted to make waffles with them, but couldn't find a recipe version that I liked, so I tweaked a few and came up with this one. This makes 3 double waffles, which is 3 servings in my house.
Great recipe! I will use often! I ended up using blackberries for strawberries and only 1 tsp sugar, and they were a crazy purple! Fun to eat, and not only that, very good. They were crispy and tasted of berries, especially when i hit the berry chunks (I didnt blend all the way so there were yummy pieces of blackberry i could munch through!) Not only were these hearty, they were healthy. I will definetly make these again... And i will definetly exparament with more berries! UPDATE: Made again with frozen raspberries with even better results. I did my wet ingrediants in my smoothie maker the night before, covered the cup, and refridgerated it overnight. I mixed the drys the night before too, and whisked the wets and drys together the next morning. NOTE that the whisk makes the waffles lighter. I'm going to next time try with some cornmeal in place of some white flour.
Combine flours, flax seed, Splenda, baking powder and salt into a medium-sized bowl with a whisk. Form a well in the center in preparation of wet ingredients.
Into a blender, place strawberries, milk, applesauce (or yogurt), vanilla and egg and puree until smooth.
Add the wet strawberry mixture to the dry flour mixture and whisk just until all is moistened. Do not overmix.
Spoon about 1/2 cup batter onto preheated waffle iron that's been coated with cooking spray. Cook until done and crispy.
Serve hot with toppings of your choice: we like sugar-free syrup, Cool Whip Free and extra sliced strawberries.