Leslie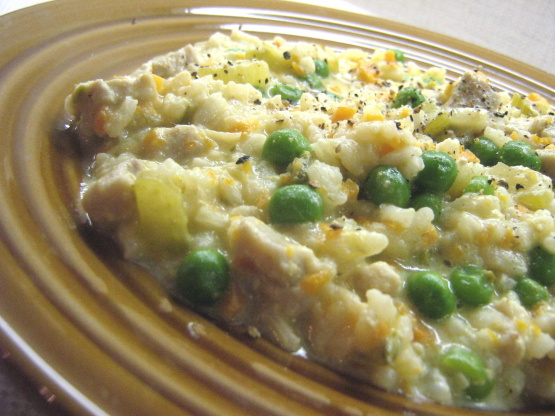 Is a SPECIAL recipe! One that works well for me! LOVE that can cook chicken in stock, TRUE! Please feel free to do a review!

Top Review by Leslie
This was fantastic!! I ran my veggies through a food processor (except the peas) to make it more child friendly for my daughter who doesn't like her foods to be mixed together LOL. It turned out beautifully :) Great flavours, and yes, the chicken cooked just fine! Thanks for posting. Made for Aussie Swap :)
Heat chicken stock in large saucepan; reserve 2 tablespoons.
In frying pan, heat 2 tbsp of chicken stock and saute onions, garlic (diced fine), celery (diced fine), carrots (diced fine)and pepper.
NOTE: do NOT use the leaves of the celery as it will make the risotto bitter; just pull leaves off and retain as much of the stalk as you can; can use leaves as garnish :).
Add uncooked rice and fry until shiny; about 5 minutes; remove from heat.
NOTE: You will see it change to a shiny texture.
REMOVE bay leaf.
ADD wine and stock one ladle at a time and constantly stir the rice.
NOTE: Make sure pan is still removed from heat.
DICE chicken breast FINELY.
ADD uncooked chicken into rice and make sure mixture stays moist; Please don't panic, chicken WILL fully cook; KEEP STIRRING :).
NOTE: Do not let the rice 100 percent absorb liquid before adding next ladle full; rice mixture should always be wet.
Continue ladling stock into rice until all is gone;.
NOTE: If rice is not fully cooked, heat more chicken stock as required.
ADD salt and pepper to taste (I like alot of pepper!); adjust seasoning to YOUR taste.
ADD peas (Can be frozen).
When peas are cooked, add butter and cheese.
Once totally melted, spoon into bowls.
ENJOY!
NOTE: Can use red or white wine or omit should you desire.
LAST NOTE: Final product should also be wet :) Hope this helps!