Annacia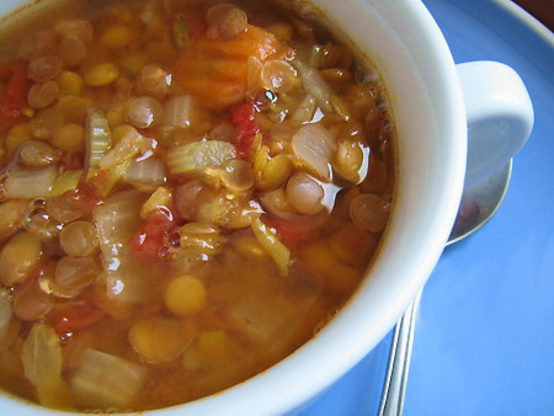 Adapted from Alton Brown's Good Eats, this is wonderful soup! I have tweaked it a little, after reading all the reviews. Enjoy! To make the soup more of a main meal, add soy chorizo to it!

This is a very good lentil soup. I skipped the "sausage" and used veggie broth. The highlight and difference of this version is the spices (I was too lazy to toast the cumin). Out of personal choice I chose not to blend it. I really like the "chunky style" best. It has a wonderful depth of flavor. I had a bowl for lunch and froze the rest to hide for later rest.
Place the olive oil into a large 6-quart Dutch oven and set over medium heat.
When hot, add the onion, carrot, celery(if using soy chorizo sausage, add now) and salt and sweat until the onions are translucent, approximately 6 to 7 minutes.
Add the lentils, tomatoes, broth, coriander, cumin, pepper and cardamom if using, and stir to combine.
Increase the heat to high and bring just to a boil. Reduce the heat to low, cover and cook at a low simmer until lentils are tender, about 35 to 40 minutes.
Using an immersion blender, puree to your preferred consistency(or put in batches into the blender and puree). Serve immediately. Enjoy!
Note: One reviewer said when serving, to add 1 tbls. of vinegar to the soup. I haven't tried this yet, but you might want to.