Good Eats Broccoli Noodle Casserole
Parsley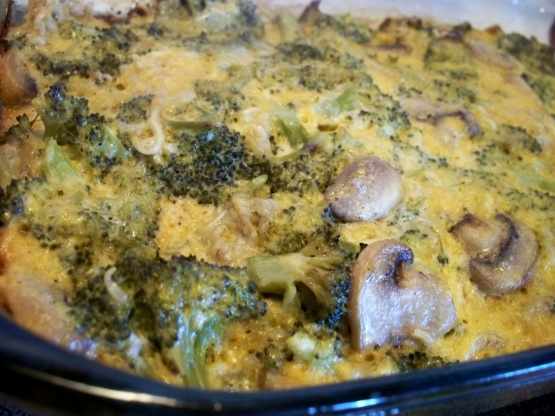 Alton Brown is my FAVORITEST chef on the Food Network. He's funny and, like me, believes that everything in the kitchen should multi task. Most all of his recipes are easy and every-day stuff we can all enjoy. (Let's face it, some of those dishes from some of those cooks are a little too much trouble if you've got a hungry bunch or your market has limited selections.) This one, however, is simple and darn good.

I am speechless....when putting this together I thought I would really dislike it. I thought the cheese would be too dominant, the ramen too crunchy, and the casserole would be dry. Absolutely NOT true to all of the above. It is amazing! I used about 3 cups of frozen (but thawed) chopped broccoli and 2 cups of chopped cooked chicken. I used fresh mushrooms sauteed in a bit of butter, and I also added about 1.4c. chopped red pepper (mainly for some color pizzazz) that was also sauteed in butter. The texture of this casserole is amazing and the flavor spectacular. I have found a new favorite. It would be great with leftover Thanksgiving turkey or Christmas ham as well. My only piece of advice is to crumble the ramen IN the packet before opening it. My hands were nearly shredded buy the time I finished doing it with my bare hands.
Preheat the oven to 350 degrees.
In a small bowl, combine mayo, sour cream, cheese, eggs, salt pepper, and ramen seasoning packet. In another bowl, combine the broccoli, mushrooms, and broken ramen noodles; toss with the mayo to evenly coat.
Place mixture in a greased 8x8 baking dish (or something similar).
Bake for 45 minute covered, then 15 minute uncovered to brown. Cool about 15 minute before serving.