Good Eats Beef Tenderloin in Salt Crust (Alton Brown 2004)
2Bleu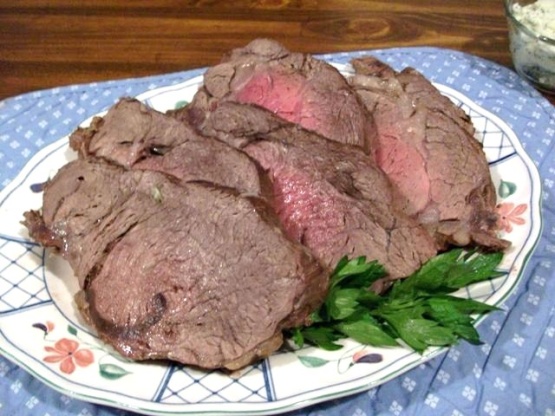 We watched AB make this on his 'Good Eats' show and it looks so succulent and is surprisingly simple to make! He states: "It's difficult to get salt to stay on something other than a flat surface, so using a dough method works best".

O M G is this an AMAZING foolproof recipe for tenderloin. Tender, moist and delicious! The crust comes together quickly so don't be intimidated. It will be kind of crumbly at first but it will come together while resting in the bag overnight. I checked it periodically and kneaded the dough while it was in the ziplock bag. I let it rest over night which I think is key. Rolling out the crust is not difficult at all. I encased the tenderloin in the salt crust several hours ahead of time, placed it on the baking sheet and covered with foil, then put it back on the fridge until show time. Be sure to bring it out of the fridge about an hour to bring it closer to room temperature. A few important notes: Searing the tenderloin is a must. On the baking sheet >put down parchment paper or spray heavily with a nonstick spray or you will have a devil of a time getting the salt crust off the baking sheet. Be sure to use a meat thermometer. I found the recommended baking method spot on. I may use a bit less salt next time in the crust. I found the ends, that were slightly more done, to be a bit salty for my taste but not objectionable. . I'm not sure cutting back the salt will make a difference, but ti's worth a shot.
Reserve half of the herbs for later. Mix the other half of herbs and all the other dry goods together in a large bowl. Make a well in the center and add the egg whites/water mixture.
Use a potato masher (unless you have a very strong KitchenAid) and begin to mash and mix the dough. It will be very tough and crumbly. Scrape down the sides and knead to a solid mass (it will still be crumbly).
Place dough (break up if needed) into a sturdy ziplock freezer bag. Seal up and leave on counter for 4-24 hours (this allows the egg whites to soak up the dough).
About 1 hr before dough is ready: In order to achieve uniform cooking, fold over slender tail end of tenderloin and tie with kitchen twine. Set a large electric griddle at its highest setting; brush the tenderloin with the olive oil and sear on all sides until well browned, approximately 10 minutes. Rest the meat for at least 5 minutes or until it is cool to the touch so as not to melt the dough.
Preheat oven to 400°F Transfer dough to a floured surface and roll out to 3/16-inch thickness, approximately a 24 by 18-inch rectangle. Trim away extra dough, if necessary. Sprinkle the remaining herbs on the center section of the dough and gently press down.
Place meat in the middle of the dough. Gently take one side and fold over meat. Fold back a flap. Bring up the other end and crimp together with the flap. Fold short ends over and crimp to seal. You do not want it tight around the meat, but you do want it sealed well.
Move the roast onto a baking sheet. Insert a meat thermometer into center of roast. Set to 125°F Baking time is approximately 25-30 minutes.
Remove from the oven and allow to rest for 30 minutes or up to 1 hour. The tenderloin will continue to cook 10 to 15 degrees more. Cut salt crust at 1 end and extract meat by pulling out of dough tube using tongs. Slice and serve immediately. (Alton says to toss the casing in the yard as it's good for wildlife).