Good Eats 40 Cloves and a Chicken (Alton Brown)
Tread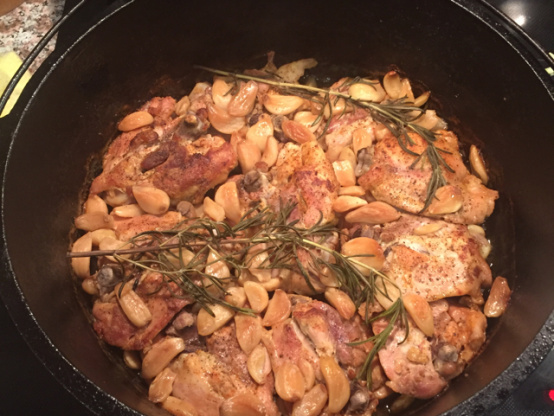 Tender and succulent, this is fall-off-the-bone chicken, with tons of roasted garlic! This recipe can be made quicker and without too much fuss, it's suggested to purchase whole garlic cloves already peeled. They are usually found in a jar in the produce section and sometimes even packed in oil. :)

Top Review by yooper
This recipe has always intrigued me, and I have always wanted to make it ever since I first saw it in an old James Beard cookbook some 20 plus years ago. This version was so easy to put together,
AFTER I peeled all of those darn cloves...(my hands stunk for hours afterward)!!! I did use all chicken thighs and they did come out juicy and falling off the bone. I also chopped up a yellow onion, which I added, and it was a wonderful addition, since the onion took on a delightful sweetness which added great flavor to the overall dish. A great dish that will get made often here, only NEXT TIME I will make sure and use the pre-peeled cloves!!!
Preheat oven to 350 degrees F. Season chicken with salt and pepper. Toss with 2 tablespoons olive oil and brown on both sides in a wide fry pan or skillet over high heat.
Remove from heat, add oil, thyme, and garlic cloves. Cover and bake for 1 1/2 hours.
Remove chicken from the oven, let rest for 5 to 10 minutes.