Tisme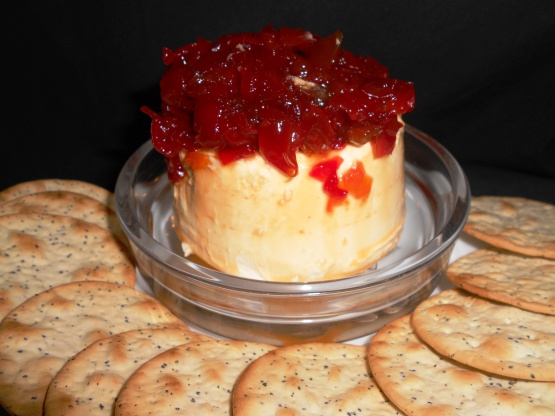 A recipe from my workmate. Can be stored in the fridge for a couple of days - but let it come to room temperature before serving. Best served with Chicken Crimpys!

Top Review by Tisme
This is so incredibly easy to make!
I made exactly as per the recipe and it was really fantastic.
The only thing I would do differently next time ( an yes there will be many nect times!!) is to cut down on the sugar just a little........It is was very sweet, but with the cheese very very delicious!
Loved this recipe Remy....Thanks for a great and easy recipe to make for over the coming summer months.
Place undrained Diced Capsicum, sugar, vinegar into a small saucepan and heat until boiling.
Reduce heat and simmer over a low heat for approximately 45 minutes or until thick and syrupy, stirring occasionally. Allow to cool a bit and pour over the cream cheese. Serve with crackers.