Gomtang (Korean Beef Soup)
themadp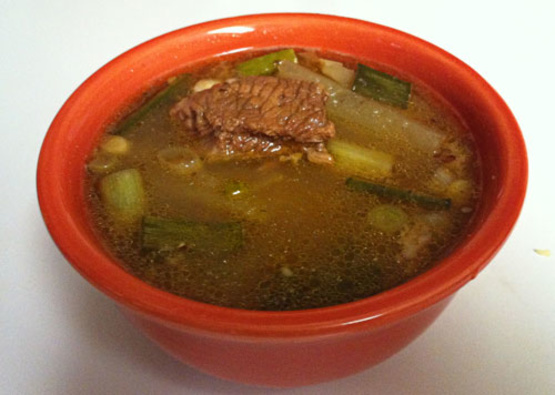 The magic of this soup is the Korean Radish called Mu. I'm lucky, there is a big Korean community in LA and the surrounding area so I don't have to go too far to find it but try Asian markets in your area. In the west we think of radish as a very strong tasting vegetable but Korean White radish is very mild and once cooked in soup I challenge a westerner to even identify the big white chunks of vegetable in the soup as radish. It looks and has the substance of potato but only has 5g of carbohydrates and 2g of fiber for 3 net carbs per cup!
Cut beef and radish into chunks.
Make a marinade with the other ingredients and divide it evenly into two Ziploc bags.
Put the beef in one and the radish in the other and marinade for at least an hour.
Add the water (hot) and the contents of the beef bag to the water in the slow cooker.
1 hour later add the contents of the other bag.
Slow cook for 3-4 hours and it's done.