Goldy Bear's Scout's Brownies
flower7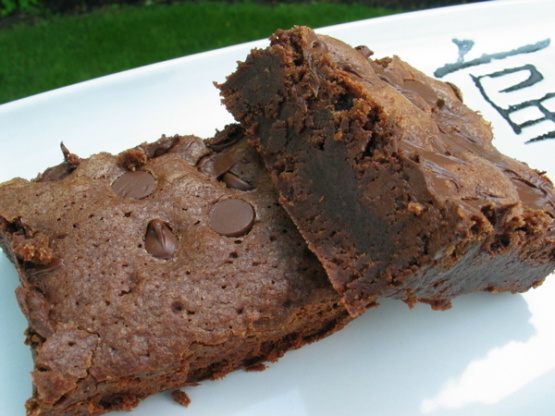 This came from Diane Mott Davidson's book "Dying for Chocolate", and was "created" by caterer Goldy Bear. These were a hit last Thanksgiving.

I started making this recipe shortly after it was published in Diane Mott Davidson's book in 2005. I have made it numerous times for soccer teams and office groups. It is fabulous and is now the only chocolate brownie recipe I make. Do NOT scrimp on ingredients. Use butter, not margarine. Use best quality chocolate. It really makes a difference.
preheat oven to 350 degrees (high altitude 375).
Melt butter with unsweetened chocolate in a double boiler.
Set aside to cool.
Sift together cocoa, flour, baking powder and salt.
Beat eggs until creamy, and slowly add the sugar, beating constantly.
Add vanilla and cooled chocolate/butter mixture.
Stir in dry ingredients until just combined.
Spread batter in buttered 9x13 pan.
Sprinkle chocolate chips over surface.
Bake for 30-35 minutes or until center is set.
Let cool before cutting.