Rita1652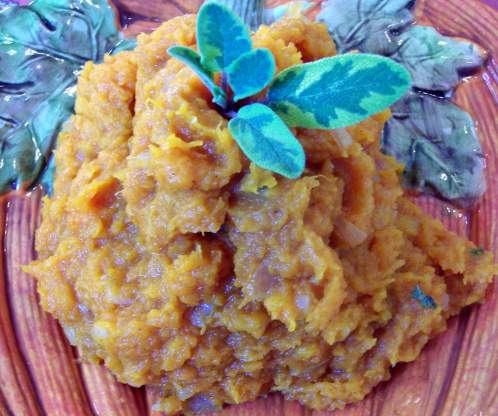 A beautiful fall side. Nicely spiced comfort food!

Posting this as a comment or more accurately a cautionary tale. have recently become enamoured with calabaza squash and decided to try it in this recipe. The squash is huge and typically sold in large wedges in the local markets. Placed mine in the oven to roast. Cooked until done and began to prepare this and alas it just did not work. Me thinks that you need the whole gourd in order to maintain the moisture necessary to get a good mash. :( That said, I really liked the lemony accents which made this quite different from most fall squash recipes. Will certain try this again.
Preheat the oven to 375°F.
Prick the squash with the tip of a knife and place in a pan in the oven.
Bake until tender when pierced, about 50 to 60 minutes, depending on size.
Or microwave 20 minutes.
Remove from the oven and, when cool enough to handle, cut in half. Scoop out the seeds and fibers and discard. Scoop out the flesh and blend it till smooth adding a but of water or orange juice to help puree. You should have about 3 cups purée.
Warm the olive oil or butter in a sauté pan over low heat. Add the onion and sauté until very soft and sweet, about 15 minutes,if needed add brown sugar.
Add the puréed squash, season with salt and pepper, and add lemon zest, ginger, nutmeg and cinnamon.
Cook over very low heat, stirring often, until dry, about 5-10 minutes. Transfer to a warmed serving dish and sprinkle with mint, parsley, or rosemary, if you like.