ImPat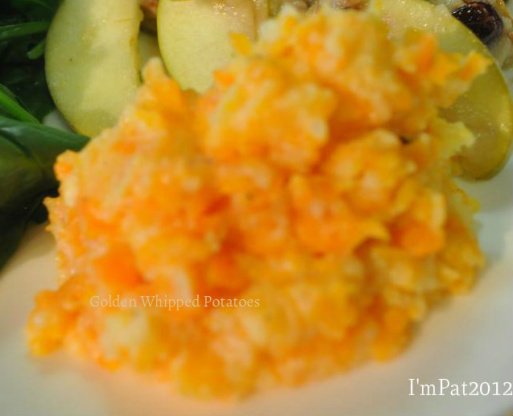 Get more veggies in their diets and no one will be the wiser. This recipe makes a lot - 12 servings - so feel free to scale it down to fit your family. Or make the whole she-bang and freeze portions of it for later.

Top Review by ImPat
I took SusieQusie suggestion and made to fit serve size wise - I used 6 ounzes carrots and 9 ounzes of Carisma potatoes (low GI potatoes) and then followed through with the butter (1 tablespoon) milk (2 tablesploons appoximately), nutmeg (a sprinkle) and a grind of salt and pepper and came up with a mash that 3 of us enjoyed and polished of, thank you SusieQusie, made for I Recommend tag game and recommended by AZPARZYCH.
In a large saucepan, combine carrots, potatoes. Add water to just cover.
Bring to a boil; simmer, covered until tender, about 20 minutes. Drain.
In the saucepan, mash the vegetables until smooth. Return saucepan to low heat, stirring constantly to dry vegetables out, about 3 minutes.
Add milk, 2 tablespoons butter, nutmeg, salt and pepper. Beat until fluffy.
Turn into a serving bowl and top with remaining butter, cut into small pieces.