Golden-Topped Fish Fillets
Sageca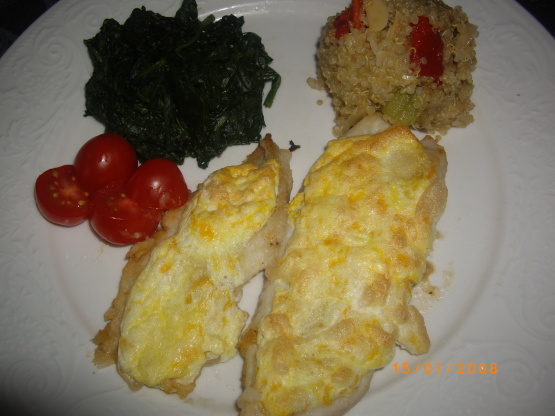 This is one of the most outstanding toppings for fish fillets. It does not overpower the fish, and tastes absolutely great. The recipe is from a very popular South African cookbook writer, Lynn Bedford Hall. I cannot count how often I've made this topping -- regardless of how the fish was prepared. But I give her recipe with a few tiny adjustments. This is for people who do not like fish!! Read the recipe before you start. It's quick and easy.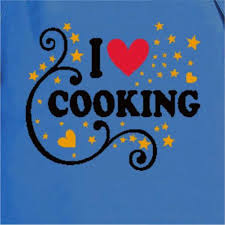 Top Review by Sageca
We give this recipe 5 stars.I made it with tilapia but I'm sure any fish would do.We are fish lovers and your recipe only makes it taste better and it looks great on the plate.I will surely make this topping again. Thanks for posting this unusaul way of preparing fish'; we loved it! Eita
Topping

1

egg white, largest size
1⁄2 cup mayonnaise, thick (125 ml)
1⁄2 cup cheddar cheese, grated, nice quality

2

teaspoons mustard, any type

The fish

2

lbs fish fillets, fresh (enough for 4 portions, 1 kg)

1

teaspoon salt

4

teaspoons flour (20 ml)
1⁄2 teaspoon dried dill (or use 1 tblsp fresh, or any other herb)

4

tablespoons butter (very soft or melted, 60 ml)

1

tablespoon lemon juice
Before you start cooking the fish, mix the topping.
Whisk the egg white until stiff.
Mix the mayonnaise, cheese and mustard, and fold in the stiffly whisked egg white.
To cook the fish, use any one of two methods:.
Lightly flour the fish fillets, and fry in a skillet in oil over high heat for a couple of minutes per side -- rather underdone than overdone, as it will keep on cooking with this method.
OR sprinkle lemon juice over the fillets, and brush 1 tablespoon butter over each one.
Dust the fish fillets with a mixture of salt, flour and chopped herbs.
Grill in your oven under the grilling element until top of fillets turn white: only a few minutes. Turn carefully, give it another minute, and remove. Do not overcook, which is death to fish!
Remove dish from oven, spread the topping over the fish fillets, then put back under a (hot) oven grill, and grill until golden brown. This happens very quickly, so keep watching it!
This makes 4 servings, with buttered baby potatoes, a bright vegetable, salad, and chilled wine!
**If the fish sounds too much for 4 people, keep in mind that fish and all seafood shrink in cooking.