berry271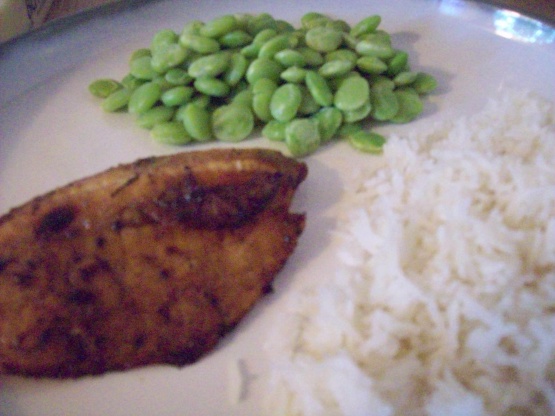 This tasty recipe for tilapia is quite easy to make. I got it off of FoodNetwork.com. and just slightly modified it. The recipe calls for the fish to marinade for 20 minutes, but I bet it would be even better if marinated for longer. Enjoy!
Simmer in a saucepan over medium heat the sugar, soy sauce, water, lemon zest and lemon juice.
Add the ginger, garlic, and pepper and cook until the sauce is reduced by half.
Allow the sauce to cool and then marinade the fillets in 1/2 of the sauce for 20 minutes in the refrigerator. Reserve the remaining sauce.
Remove fillets from the marinade. Season with salt and pepper if desired.
Preheat oven to 375 degrees.
Heat skillet to medium high. Add oil to skillet and saute the fillets for about two minutes on each side until golden brown.
Reheat the reserved sauce.
Place fillets on baking dish or cookie sheet and finish in oven for 5-7 minutes or until done.
Serve with reserved sauce.