Golden Tea Buns (Sally Lunn Bunns)
mianbao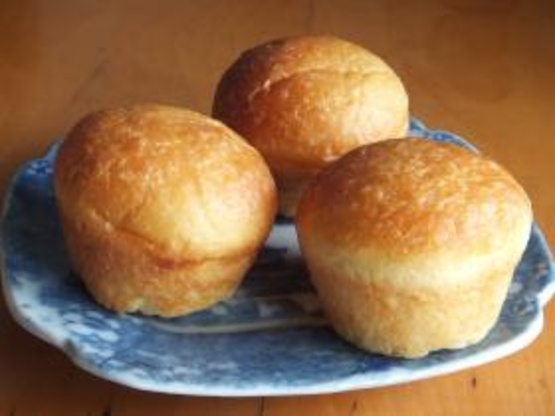 This recipe is different from the other recipes posted in that it calls for heavy cream. Published in Gourmet magazine, November 1992. These buns are easy to make, no kneading.

These turned out very well! A friend was coming over for "tea", and I had some heavy cream leftover from some desserts I had made. I was using instant yeast, so combined the yeast and flour, heated the cream and butter as in the recipe, mixed the eggs with the sugar, then mixed everything together. And added the salt and stirred vigorously. I weighed the dough and found that one bun would probably come to 45 grams. Because I had small muffin tins, I made 18 40-gram muffins, 6 45-gram ones in a larger tin, and 4 very small cinnamon rolls. The buns are fluffy, tasty, and really are golden. Thank you very much for sharing this recipe with us.
In a small saucepan, heat the cream with the butter over low heat until the butter is melted. Pour the mixture into a large bowl and let it cool to lukewarm.
Stir in the yeast, sugar, and salt and let the mixture stand for 5 minutes, or until foamy.
Beat in the eggs, 1 at a time, beating well after each addition, and add the flour, about 1 cup at a time, beating after each addition until the batter is smooth.
Let the batter rise, covered with a kitchen towel, in a warm place for 3 hours, or until it is double in bulk.
Beat the batter well to deflate it and divide it among 24 buttered or paper-lined 1/2-cup muffin tins, filling each tin about halfway.
With buttered fingers smooth the tops. Let the buns rise, covered with a kitchen towel, in a warm place for 1 hour, or until they are double in bulk.
Bake the buns in the middle of a preheated 375°F oven for 12-17 minutes, or until tester comes out clean and the buns are golden. Serve warm.