Tisme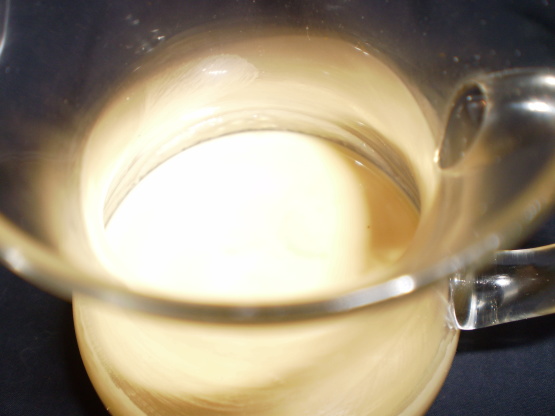 Serve with steamed puddings or pound cake or fruit or anything !

Top Review by Tisme
This was going to be the perfect cream for a Pudding I had left over from Christmas.
I made the cream as per recipe although I did use the microwave to heat it, and it turned out so fabulous. My problem was not the recipe, it was the fact I dropped the Pudding all over the kitchen floor. I had been waiting for this Pudding and Cream for weeks.......!!!! No Pudding just cream!!!!! :-(
BUT I did taste the sauce, so rich and so delicious, in fact I think it tasted just like a really great custard!
So I used it cold tonight on starwberries and it was divine, even if it wasn't my pudding.
Thanks katew I loved this!
Combine the 2 ingredients in small pot.
Stir over medium heat without boiling till warned through.
Pour over your dessert.