Golden Syrup Apple Dumplings
ImPat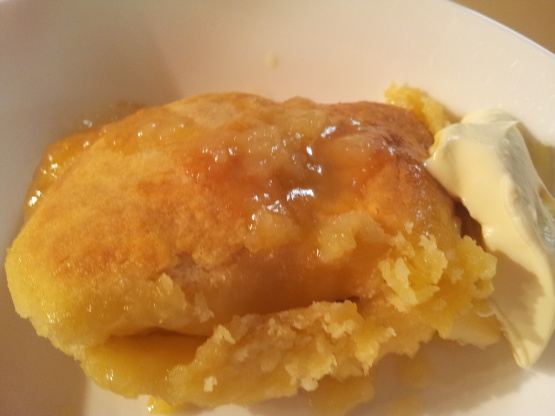 When its raining and cold outside, try this. Just the thing to warm you up. Served with ice-dream or custard its delicious!

Top Review by ImPat
I made the full recipe thinking that half an apple each would be a good size serve, well we could only get through one piece each, so when I make again I will do half a recipe. I baked at 175C fan forced and they took 45 minutes to get a nice golden colour. I think the extra time was due to the 8 pieces being tightly pack into the dish and didn't really allow for expansion so will try with them being more separated and I think they would cook quicker. Thank you Tisme, made for Make My Recipe tag game.
Rub butter into flour. Beat the egg and add milk, then mix into flour to form a dough.
Divide this mixture into 8 pieces and roll out, fold around each quarter of apple, place into a greased baking dish.
Pour over hot syrup.
Bake in a moderate oven for approximately 30 minutes until golden brown and cooked.
To make syrup ~ Place all ingredients into a saucepan and bring to the boil.