PaulaG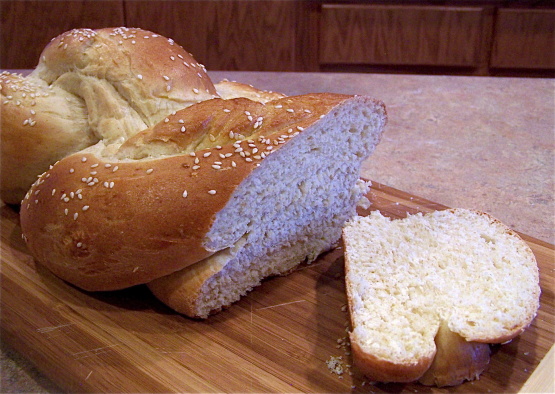 I used to make this bread all the time. It's very time consuming though. Another recipe from "Country Fair Cookbook"
Preheat oven to 350°F (175°C).
Combine milk, shortening, sugar and salt.
Allow to cool to lukewarm.
Sprinkle yeast on lukewarm water, stir to dissolve.
Add yeast, 3 eggs and 2 cups of flour to milk mixture.
Beat with mixer on medium until smooth, about 2 minutes, occasionally scraping the bowl. Alternatively beat by hand with spoon until batter is smooth.
Gradually add enough remaining flour to make a soft dough that leaves the sides of the bowl.
Turn out on to floured surface and knead until smooth and satiny, about 8 to 10 minutes.
Put dough in lightly greased bowl, turn to grease both sides.
Cover and let rise in warm place until doubled, about 1 hour.
Divide dough into 6 equal pieces.
Roll each into 12" (30cm) strips.
Braid 3 strips together to form a loaf, continuing with remaining 3 strips for second loaf, place on separate greased baking sheets.
Cover and let rise until doubled, about 45 minutes.
Brush loaves with a glaze using 1 beaten egg and 1 tblsp of water.
Sprinkle with sesame seeds.
Bake in oven for 30 minutes or until loaves sound hollow when tapped.
Remove from baking sheets; cooling on racks.