Nimz1466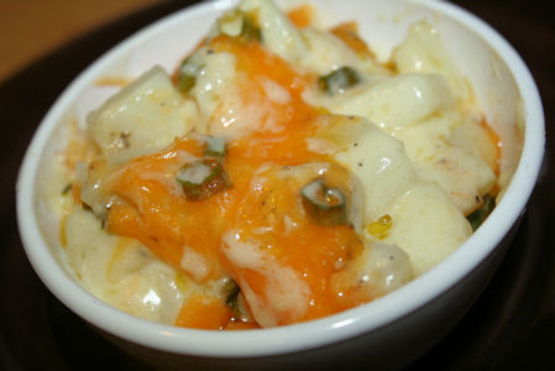 I haven't tried this, but surely intend to! Looks rich and creamy-just the way I like my spuds. Recipe does not specify number of servings so I'm guessing 10-12. Enjoy!

Made these for supper last night exactly the way the recipe stated and they were a real hit! All my family loved them and my DS asked if he could take the little bit that was left,home with him!! I'll certainly be making this again!
Cook the peeled and cubed potatoes in large pot with salted boiling water just until tender; about 15 minutes.
Drain.
In a seperate saucepan combine butter, soup and sour cream, heat until just melted.
Layer in a spray coated 13x9" baking dish; potatoes, soup mixture, cheese and onions (in that order).
Bake uncovered in a 350 degree oven for 30-40 minutes.
Let cool 5 minutes before serving.