Parsley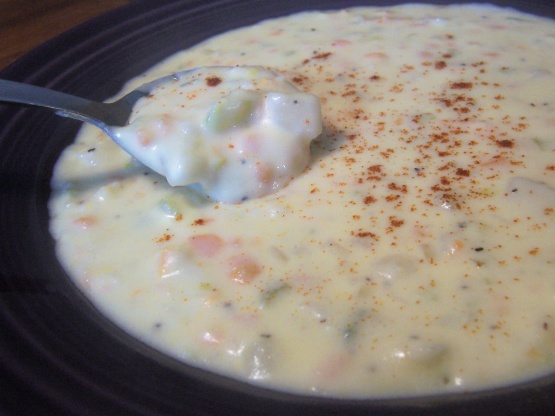 This is a warm, comforting soup. Perfect as a side or the main event. I like to double this recipe if I am serving more than two. I also like extra cheese. If you desire a little extra spice, add some chili powder or cayenne. I obtained this from a traveler's internet cookbook.

This soup was very good. However I did add a bit of hot curry and a vegetable boullion cube to it. I also found the soup to thick, so I increased the amount of milk. Thanks for the recipe! I will definitely be making in again.
Saute onion and celery in butter in a medium saucepan.
Add carrot, potato and 3/4 cup water; bring to a boil.
Cover, reduce heat and simmer until potato is tender (about 15 minutes)
Stir in milk, salt and pepper. Bring to a gentle boil, stirring often.
In a small bowl, combine flour, cornstarch and 3 tablespoons water; stir into soup mixture.
Cook and stir until thickened.
Remove from heat.
Stir in cheese until melted.
Sprinkle each serving with a pinch of paprika.