PaulaG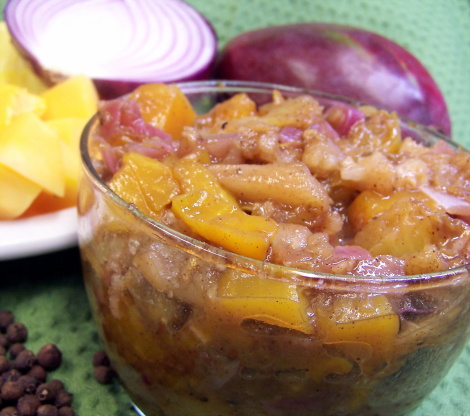 This recipe is taken from "New World Kitchen" by Norman Van Aken. If you are going to try at least one chutney recipe, I strongly suggest that this be the one, this chutney is wonderful and will keep covered in the refrigerator for about 6 weeks, trust me it won't last a week lol! I purchase my allspice berries in a bulk spice store. This is so good served with chicken or pork!
Top Review by PaulaG
The intro says it is good with chicken or pork, you can add beef to that list. I made this on Friday, intending to serve it with a chicken dish and promptly forget to get it out of the fridge. I made it as per the directions. My papaya was a Mexican papaya that weighed in at about 3 pounds. I used 1/2 for this recipe. One comment, when reducing the vinegar, keep a close eye on it as it goes quick!
In a large bowl combine all ingredients except the allspice berries and vinegar (allow to stand at room temperature for 30 minutes).
Meanwhile toast the berries in a small saucepan until they just begin to smoke.
Add in the vinegar; bring to a simmer; reduce to about 1/4 cup.
Strain and discard the berries.
Combine the reduced vinegar with the fruit mixture in a large heavy saucepan; simmer over medium heat, stirring constantly for about 20-30 minutes, until the liquid is almost syrupy.
Refrigerate until cold.