Margie99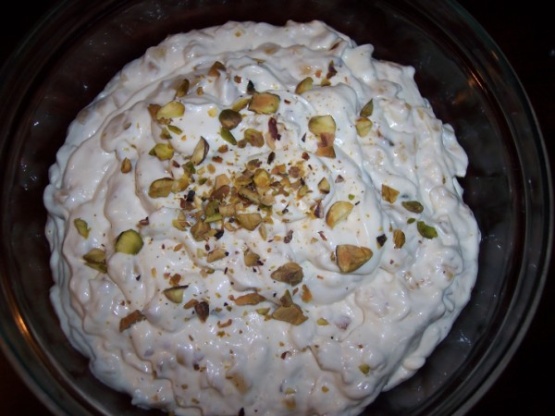 Recipe by loof
When my mom and I were cleaning out one of her kitchen cabinets we found boxes of recipes clipped from newspapers, magazines, booklets, etc. This one came from a booklet called "The Little Book of Holiday Appetizers", put out by Oxmoor House in 2002.

I wanted to review this so my Dh and I tasted a bit tonight after dinner and we liked it. I think next time I would like to add a bunch of garlic to the onions. I was also thinking about running them through the food processor after cooking. My Dh doesn't like the chunks of onion. I liked the texture provided by the pistachios. It was easy to make.
Chop the onions. Leave the cream cheese out to soften while preparing the onions.
Melt the butter in a large nonstick skillet. Add the onions and cook over medium-high heat, stirring constantly, until tender.
Add chicken broth and bring to a boil. Cook over medium-high heat for 20-25 minutes, stirring often, until onion is golden. Remove from heat and let cool.
Beat the cream cheese until creamy. Add mayo and beat until smooth. Stir in the onion mixture and the pistachios.
Cover and chill until ready to serve, at least 2 hours. Serve with assorted fresh veggies or melba rounds.