Golden Mushroom, Pea, and Asparagus Risotto (Vegan)
Prose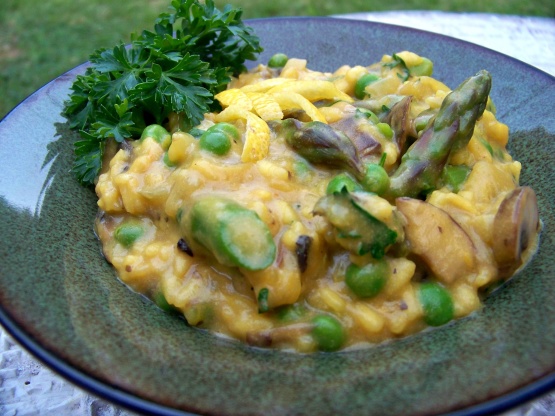 Recipe from The Vegan Chef and placed here for safe keeping. . .have some nutritional yeast to use up and this sounds great!! Serves 4 as a main dish or 6 as a side dish. NOTE: After making this, I have to say it was WAY better on day 2 and 3 once the flavors all came together. I also would make the saffron, dill and peas optional. I used regular button mushrooms with great results. And I have to say that I made 1/2 with parmesan cheese and 1/2 with the nutritional yeast. . .the yeast batch was MUCH better. . .who would have guessed?!?!?!?!?

This was a remarkably rich and creamy risotto. I wasn't sure on cooking time; mine took about 35 minutes. My version was not vegan since I added some parm at the end and used chick stock instead of veggie. I also subbed leeks for onion because had some extra in fridge. Really, really nice risotto. Also, did not use the yeast flakes...never heard of them. Have to say didn't miss them at all.
In a medium saucepan, place the vegetable stock and bring to a boil.
Slice the asparagus spears diagonally into 1-inch pieces and place them in a fine mesh strainer. Place the strainer in the boiling vegetable stock and cook the asparagus in the stock for 2 minutes to blanch them.
Remove the strainer from the stock and set the asparagus aside. Reduce the heat of the stock to low.
In a large saucepan, saute the onion in the olive oil for 3 minutes to soften. Add the mushrooms and garlic and saute the mixture an additional 3 minutes.
Add the Arborio rice, stir well to coat it with the sauteed vegetable mixture, and cook an additional 2 minutes while stirring constantly or until rice turns opaque.
Add the white wine (or use some of the stock if omitting) and saffron threads, season to taste with salt and pepper, and stir well to combine. Reduce the heat to low and cook the mixture while stirring occasionally until all of the liquid has been absorbed.
Add 1/2 cup of the simmering vegetable stock and continue to cook, while stirring occasionally, until all of the stock has been absorbed.
Repeat the procedure of adding a 1/2 cup of simmering stock, stirring, and cooking until fully absorbed before adding additional stock, until all but a 1/2 cup of stock remains.
Add the blanched asparagus, along with the remaining ingredients, and stir well to combine. Cook the mixture an additional 2-3 minutes while stirring constantly, adding the remaining stock, as needed, so that the rice is tender and the risotto has a creamy consistency.
Taste and adjust the seasonings, as desired.