GaylaJ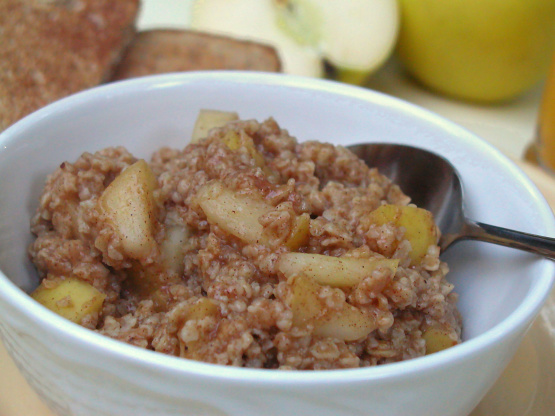 Another goodie with oatmeal. UPDATE:12/05. I have changed the amount of servings to one instead of two. I was thinking about the amount I eat with my protein shake, instead of what the general public would probably eat.

Nutritious, fast and tasty - what more can you ask for on a weekday morning? :) I slightly increased the amounts, 'cause I *really* like my oatmeal, and this recipe makes me glad I did. It's a great way to get in your morning's whole grains and fruit - I eat the rest of the apple as the oatmeal cooks, and then breakfast is ready! Thanks for posting.
Combine all but the oatmeal in saucepan.
Bring to a boil.
Stir in oats and cook 1 minute.
Cover and let stand several minutes, then serve.