Annacia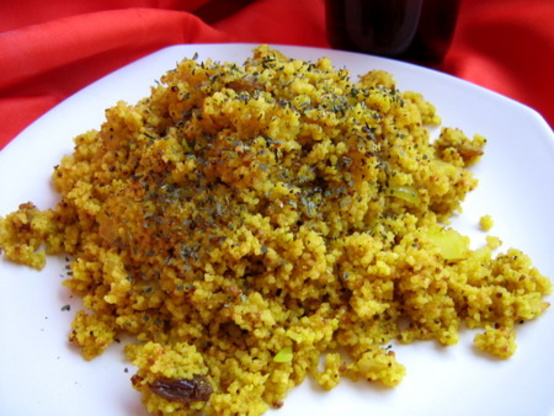 Caramelizing the onions is what brings out extra flavor to this dish --- adjust the amount of cayenne pepper to suit heat level, make certain that the chicken broth is *hot* before adding to the recipe :)

really nice! i reduced the couscous and broth by one-third, but left all other measurements the same. i didn't wind up using any pepper-- it tasted fine without. i also didn't have any currants on hand, so i just did without. it was still great.
Bring the broth to a boil; cover with a lid to keep hot; set aside.
In a large skillet melt the butter with oil over medium-high heat.
Add in chopped onions with 1 teaspoon brown sugar; sauté stirring until light golden brown (about 15 minutes).
Add in the garlic, cayenne, turmeric, cumin and ground black pepper; stir for 2 minutes.
Add in couscous and stir until coated with the onion mixture.
Mix in the hot broth and currants; cover with a lid.
Remove from heat and let stand for about 10-15 minutes or until all the water is absorbed.
Fluff with a fork then mix in the almonds, then season with salt and more ground black pepper if desired.