" Golden Circle " - Pineapple Upside-Down Cake
diner524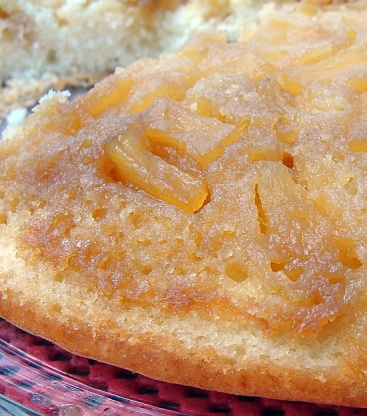 This is the best pineapple upside-down cake! My mother has the same recipe in a book from the 1970's and the same recipe is still available/posted on the Golden Circle website currently. Golden Circle is an Australian brand and canned from Australian grown products Sadly -this recipe I have not yet tried to make as gluten-free.

Top notch cake!! I made it to take to my sister-in-laws for mother's day. As I had a bigger (24cm) cake tin, I made double the batter, then made some little apple cakes witn the little bit left over. When you test with the skewer, make sure you put it all the way in. I had to re-submit mine, because it wasn't ready when it looked ready. (My fault - no yours!) Still turned out beautifully! Thankyou!
Preheat your oven to 180°C.
PINEAPPLE LAYER:.
Melt the butter and pour into the base of a 20cm round cake tin; also brush the butter around the sides of the tin.
Sprinkle the brown sugar over the base of the tin. Arrange the pineapple rings (a flat single layer)in the tin and place a cherry into the centre of each ring.
CAKE BATTER:.
Cream the butter and sugar until light and fluffy.
Beat in the egg and the vanilla.
Sift the flour and fold into the mixture, alternating with the milk.
Pour the cake batter over the pineapple and cherries.
Bake for 40 to 50 minutes, or until a skewer inserted into the cake comes out clean.
Remove the cake from the oven and loosen the cake from the sides of the tin.
Invert the cake onto a serving plate. Enjoy either warm or cold.