PaulaG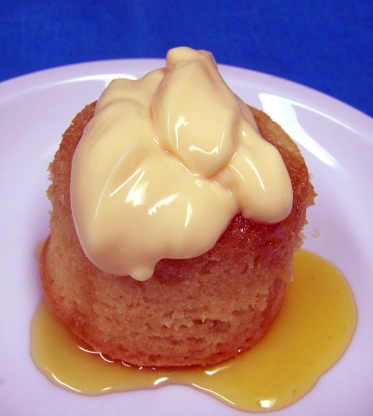 I participated in a recent swap and my partner, *maryL* sent me 2 wonderful cookbooks. This recipe was in the one entitled "Family Cooking". Using my trusty scale, I converted the ingredients list to US measurement and served this pudding to dinner guests and everyone raved. Warning: It is very sweet!

Top Review by Saturn
What an amazing blend of flavours! I ended up using 8 small (2.5 oz) ramekins as that is all I had. It turned out beautifully. I had to leave them in the oven for an extra 5 minutes to get them to the "golden" colour. I didn't use the parchment in the bottom of the ramekin. I just "greased" them up really well. It simply took a little shifting of the top and they popped right out! The addition of the custard and the corn syrup (which is what we used) is a must in my opinion. It really made the flavour explode! Thank you for such a nice and lovely recipe! This would be a great one to use to impress the in-laws!!
Preheat oven to 350 degrees.
Cut circles of parchment paper to fit the bottom of 4 (5 oz) ramekins.
Spray the ramekins with non-stick cooking spray and place the circles in the bottom.
Mix together the flour, baking powder and salt; set aside.
Cream the butter and sugar until pale and creamy; stir in vanilla.
Gradually beat in beaten eggs, alternating with 1 tablespoon of flour; beating well after each addition.
When the mixture is smooth, add any remaining flour and fold in gently.
Add a tablespoon of water and mix to form soft dough that will drop easily off a spoon.
Divide the mixture among the 4 ramekins, place on baking sheet and bake in a preheated oven for 25 minutes or until firm and golden brown.
Allow the puddings to stand for 5 minutes; run a sharp knife around sides and turn out on dessert plate, discarding paper.
Heat the syrup or honey and pour over the puddings; garnish with a couple of tablespoons crème fraiche or ready-made custard.