Dorel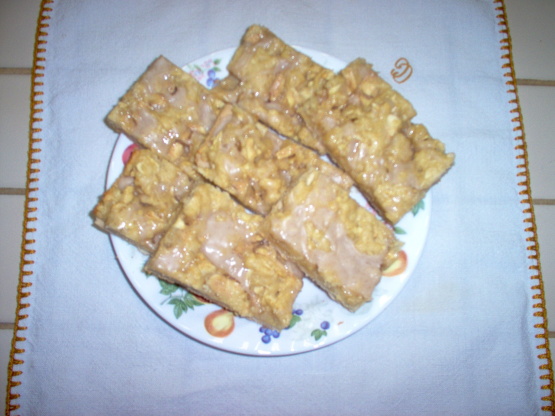 This is my adopted recipe, They are a very good nice shortbread crust and the apple filling is great. I only used 1/2 cup brown sugar in with the apples as I used Gala apples. Perhaps with a less sweet apple you would use the 3/4 cup. I used the food processor to chop up 4 apples. I had about 2-1/2 cups apples. Between 2 to 3 cups would be fine.
BASE:.
Cream 1/4 cup butter, 1/4 cup shortening and powdered sugar.
Blend in 1-1/2 cups flour.
Pat mixture onto the bottom of a 15 x 10 x 3/4-inch pan.
Bake at 350 degrees Fahrenheit for 10 to 12 minutes or until lightly browned.
TOPPING:.
Combine 1-3/4 cups flour, baking powder and salt. Set aside.
Chop apples to equal 2 cups.
Melt last 1/4 cup butter in large saucepan, blend in brown sugar,lemon zest, egg, vanilla and apples.
Stir flour mixture into apple mixture.
Spread evenly over bottom layer; mixture will be thick.
Bake at 350 degrees Fahrenheit for 25 minutes.
CINNAMON GLAZE.
Combine powdered sugar, ground cinnamon and milk.
Blend until smooth.
Spread glaze on Golden Apple Bars while they are still warm.