ImPat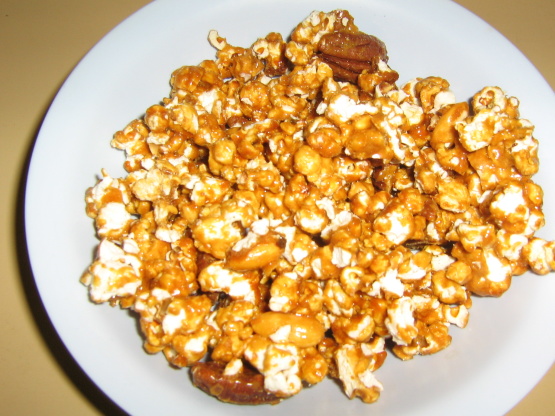 Almonds are so good, especially toasted! This is a great snack to snuggle up in front of the TV, watch a movie, etc. These also make great treats for a party or Halloween and make cool gifts too!

Now here's a different and tasty way to enjoy popcorn! Toasted almonds have never graced a more sinfull sweet. Mmm. Thanks Sharon! (note- I used vegan margarine in place of butter.)
Melt butter in large heavy saucepan.
Blend in corn syrup, brown sugar and salt.
Cook over medium-high heat, stirring constantly. Bring to a rolling boil; boil 5 minutes.
Remove from heat; stir in vanilla and soda.
Stir in almonds, coating well. Add popped corn, stirring gently until mixture is evenly coated.
Turn out onto a 10 x 15 x 1-inch pan or cookie sheet. Bake in center of oven at 300*F. 30 minutes, stirring every 10 minutes.
Remove from oven; loosen on pan and cool.
Store in airtight container. Enjoy!