Ackman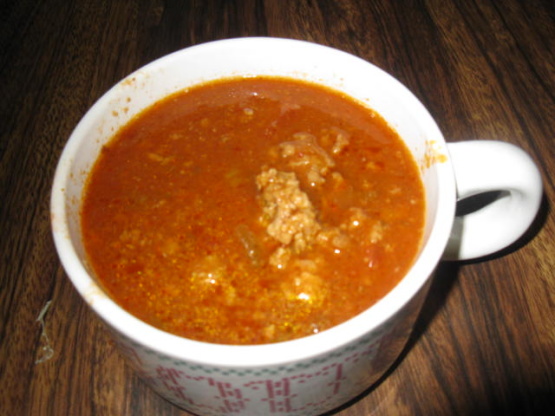 From the Cook Off America Cookbook Recipe ,1997 Winner Steve Falkowski International Chili Society Worlds Championship Chili Cookoff and Salsa Competition.

Top Review by Ackman
I make a pretty good chili myself, but every so often I like to try other recipes. Except for being a little spicy for my taste, ( & I cut the chili powder down a bit ), it was still pretty darn good. Even though chopped meat is traditional, I think I'd go back to using ground beef...IMO, chopped beef is too lean & doesn't keep the flavor like 80/20 ground beef does. I love the idea of using chicken stock instead of plain water or tomato juice. I DID add a few of my own touches...I like chopped celery & mild green chilies in chili & that's why I gave it 4 stars instead of 5. All in all, this is a winner...THANKS for sharing!!!
In a large pot simmer onion and minced garlic in 2 cups of chicken broth for 10 minutes. Add tomato sauce and all dry spices, except the sugar. Mix well.
Brown the meat in oil using a separate pan and drain well. Add the meat to the onion/spice mixture. Add remaining broth and simmer for 2 1/2 hours.
Mix in brown sugar and hot sauce just before serving.