Gold Medal Flour's Best-Ever Banana Bread
Suzie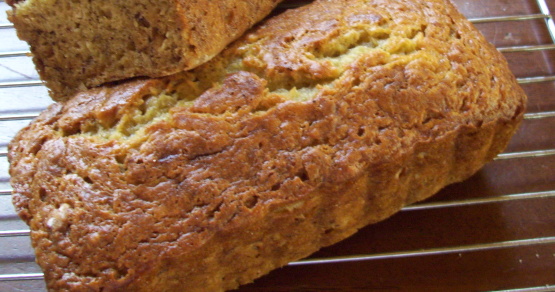 The recipe is not mine. It's from a bag of Gold Medal Flour, so if you don't care for it...that's o.k. It certainly has what it takes to make it a keeper for me, though. No muss. No fuss. It's light, moist, and makes two perfect 8 X 4 loaf pans. Takes about an hour to bake. P.S. It needs an added banana to really enhance the flavor, though.

This recipe is easy, quick, and very good. I gave it four only stars because I think the original recipe could use more bananas. On my second try, I added an additional banana and that brought it to five stars. Very tasty, moist, and it freezes very well, too. I have made it a few times since with variations, such as baking in mini four loaf pans (reduce baking time to 40 minutes) and adding Ghirardelli bittersweet chocolate chips. Good stuff!
Heat oven to 350 degrees. Grease bottoms only of 2 (8X4 inch) loaf pans.
In large bowl, mix sugar and butter. Add eggs, bananas (increase recipe by one banana), buttermilk and vanilla; beat with electric mixer on medium speed until smooth.
Stir in flour, baking soda, salt and nuts (if using) just until moistened. Pour batter into pans.
Bake for one hour or until toothpick inserted in center comes out clean. Cool 10 minutes. Loosen sides of loaves from pans; remove from pans to cooling rack. Cool about 1 hour before slicing.