Marlene.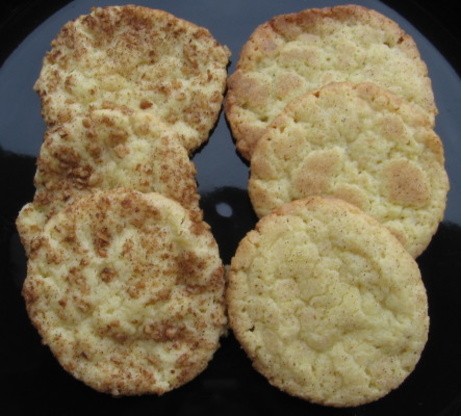 When I was a kid we made these cookies to use extra egg yolks. They are reminiscent of Snickerdoodles, but much better! Prep time includes chilling the dough.
Made a half recipe (although got about 20 regular sized cookies) to use up some egg yolks. They were good, but very, very crispy...they crumbled into pieces on touching them, although probably my fault...might've left them in a little too long. I put the cinnamon into the batter and left out pecans since we didn't have any. Good cookies! Thanks for the recipe!
Mix together shrtening, sugar and egg yolks.
Stir in milk and vanilla.
Add in flour, baking powder and salt.
Chill dough.
Roll into balls the size of walnuts and roll balls in mixture of nuts and cinnamon.
Place 3 inches apart on an ungreased baking sheet.
Bake at 400 degrees for 12-15 minutes, until golden brown, but still soft.
Yields 5 dozen 2-inch cookies.