Gold Cake With Easy Fudge Frosting
Prep 25 mins
Cook 25 mins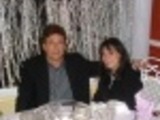 This is probably the first cake I ever made that was from scratch and not out of a box. It is still one of my favorites today, and goes perfectly with a tall glass of milk.
Directions
For cake: In a bowl, cream butter until light. Gradually beat in sugar and vanilla. Beat in eggs, one at a time. Add salt and baking powder, mixing well.
Add unsifted flour alternately with milk, beginning and ending with flour. Pour the satiny batter into a greased and floured 13x9x2-inch baking pan. Bake in a preheated 350-degree oven for 25 minutes, or until a cake tester comes out clean. Let cake cool in pan on rack. Frost.
For frosting: In the upper half of a double boiler, over hot water, melt chocolate with butter. Stir in salt and vanilla. Remove from heat and blend in confectioner's sugar alternately with milk, beating smooth after each addition, until the consistency that will spread nicely. Spread over cooled cake.
Reviews
Most Helpful
Fabulous and easy cake to do and could lend itself to flavourings if need be. I put a cream cheese frosting on mine and gave it as a gift. I doubled the recipe and that worked well and the cake was a lovely colour and very moist - highly recommend to all.
This is so easy and so yummy. The cake is very moist. We made cupcakes and donuts with this. I got 12 donuts and 12 cupcakes. Beware, the cake rises a lot, so if making cupcakes only fill half way. I am sure I will be making this cake again as it is so easy and yummy. I did cheat with the frosting simply because I was nearly out of powdered sugar when I went to make it. Thanks.