Golabki (Polish Stuffed Cabbage Rolls) (Vegetarian Version)
Mark W.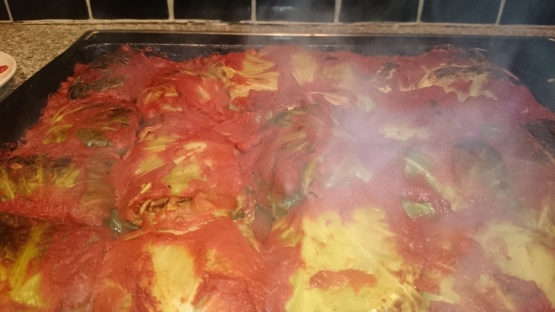 pronounced gaw-WUMP-kee, literally meaning 'little pigeons'. Probably the best known Polish food. The ground meat & rice type in tomato sauce are the most common, but the seasonings and stuffings vary from region to region and there are many other varieties, including vegetarian versions like the one listed here.

I was extremely apprehensive about making this dish, but it proved to be easier than I thought and was very tasty. I wasn't sure what was meant in Step 1 by "slice through the base of the stem, so I just cored the head. Then, I used kitchen shears to snip away any remaining tough parts at the stem before filling the leaves. Step #2: Little turtle was right, I had to immerse the head into the boiling water several times so that, each time the outer leaves were done to just the right tenderness. I made the rice filling the night before and refrigerated it and I think that improved it – allowing the spices to blend better. Everyone enjoyed this dish, even the meat eaters among us.
Slice through the base of the cabbage and cook in lightly salted boiling water until tender.
When the leaves are tender, peel off (You may have to peel the first layers first and then return the cabbage to cook and continue peeling the leaves until all are done).
Boil the rice until just tender; drain and set aside.
Fry the onions in the butter until softened.
Dice the mushrooms and fry lightly with the onions, and the Worcestershire sauce, if using.
Mix with the rice and season with salt, pepper, garlic, paprika and parsley.
Place a tablespoonful of the rice mixture in each cabbage leaf; carefully, tuck in sides and roll to cover rice.
Heat the oven to 400°F.
Grease a roasting pan and place cabbage rolls seam side down in pan, packing them tightly together.
Pour enough juice or stock over the top to cover them.
Sprinkle lightly with remaining paprika.
Cover and bake in oven for 20 minutes.
Remove cover and bake for another 10 minutes to brown the cabbage lightly.